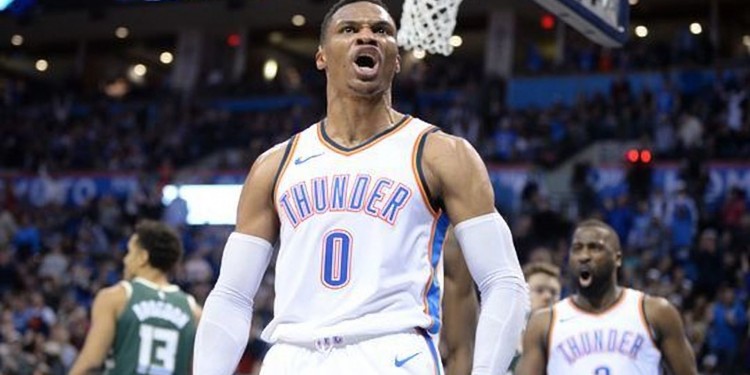 Note: Finding bets in the first round is hard, couldn't find a series winners acca with any real value, picked out a few bets though.
Eastern Conference
(1) Toronto Raptors vs (8) Washington Wizards
The Raptors held the number 1 seed last year but everyone knew when the games started to matter the Cavs would beat them, and they did convincingly. Last year the Raptors average winning margin was 3/game, this year it's up to 8/game boasting the 3rd highest points per game in the league, proving they are significantly better than last year and actually deserving of the top seed. The Wizards on the other hand aren't playing well at all, John Wall returning to the line-up hasn't made them any better which has surprised people, but I just don't think Wall & Beal are the all-stars everyone seems to think they are. The worry for the Raptors going forward is keeping DeRozan on his game, typically players that rely on getting a lot of their points at the free throw line struggle in the post-season as less fouls get called. His mid-range game is elite he just needs to knock down a few 3's, which he started to do toward the end of the regular season.
Prediction – Raptors 4-1
(2) Boston Celtics vs (7) Milwaukee Bucks
Injuries are killing the Celtics this year, Hayward suffered a horrific leg injury early in the season, Kyrie Irving has just had a season ending operation on his knee, and Marcus Smart could miss most of the first round now as well. Tatum has been impressive and I still really like Horford offensively, if Brad Stevens can put together a game plan to slow down the Greek Freak I think they can just about squeak through. The Bucks have some tidy role players but Giannis is quickly on his way to becoming one of the best players in the NBA, expect the Celtics to try make him beat them from the perimeter where he isn't as effective. This should be a scrappy series, but it comes down to coaching for me, Bucks have an interim they aren't sold on against one of the better coaches in the league, I'll take Boston.
Prediction – Celtics 4-3
(3) Philadelphia 76ers vs (6) Miami Heat
If the Sixers can stay healthy they can genuinely win the east. Simmonds is a lock for rookie of the year, defending a point guard that is 6'10 with his vision is near impossible, consistent shooting is his problem and he has been improving. Saric is solid, Reddick might be the best free agency signing of the year, Embiid is one of the best bigs in the NBA already, and they've won 15 straight games. The only notable team they beat in the run that they're on is the Cavs, and they've lost to Miami twice this year with both home teams winning both of their home games in the season series. The Heat have struggled a bit as of late, apparently Whiteside is unhappy with the way he's being used which could be causing some arguments within the team. Wade's career is winding down now, and as nice as it would be to see him go on another playoff run I can't see it happening. I had the Sixers in 5, but with Embiid missing the first game i'm leaning towards 6 games.
Prediction – Sixers 4-2
(4) Cleveland Cavaliers vs (5) Indiana Pacers
For a few years this was the series in the east everyone looked forward to, but Lebron James vs Victor Oladipo doesn't quite have the same appeal as Lebron vs Paul George. The Cavs aren't that good this year, but Lebron's record in the playoffs is absolutely ridiculous and he gets his team to the conference finals every year. The Pacers have been massively over achieving considering the team they have and a lot of that has to do with the leap in form Oladipo has taken. In Oklahoma City he was pretty average, but he seems to relish the role of being 'the guy' a lot more than expected. Regardless nothing cancels out a guy in form like being guarded by Lebron James, which is what I expect the Cavs to do. I think the Pacers will take a game at home, but I can't see them winning in Cleveland when it matters.
Prediction – Cavs 4-1
Western Conference
(1) Houston Rockets vs (8) Minnesota Timberwolves
In a way the Timberwolves are already 1-0 in the playoffs, after winning a rare win-and-in game against the Nuggets to secure the last playoff spot in the West. However I think this is a terrible match-up for them whether Jimmy Butler is healthy or not. There was a stretch during the regular season when the Rockets were 29-1 with Capela, Paul and Harden all healthy, which they are going into the playoffs. While I think Houston are slightly over-rated, I still think they'll make short work of this series. You need to be able to shoot 3's to keep up with the Rockets, and the Timberwolves best 3 point shooter is their centre. I think Towns is one of the best bigs in the league, but he can't be the best long range shooter on your team if you have any hope of keeping up with Harden, CP3, Gordon, Ariza, you get the idea. Towns should be able to get the better of Capela, but I can't really see any other match-up that will cause the Rockets problems unless Butler plays the game of his life for every game.
Prediction – Rockets 4-1
(2) Golden State Warriors vs (7) San Antonio Spurs
If Kawhi Leonard was healthy I'd be all over the Spurs to win this series. Something isn't quite right with them this year, Leonard is apparently able to play through his injury and is just choosing not to, which has lead to a few team mates calling him out on it. Typically Gregg Popovich keeps his players in line and you never hear of any disagreements in their locker room, this isn't what you want going on as you're lining up to play the Warriors. Curry is still out, but it sounds like he'll be ready for the second round. Durant is similar to Lebron in the way he steps his game up when it matters, expect him to put up 30+ a game especially with Curry out. They still have 3 of the big 4 playing, I think the Spurs get one at home but without Kawhi they can't stop Durant.
Prediction – Warriors 4-1
(3) Portland Trail Blazers vs (6) New Orleans Pelicans
This series would be a tougher one to call if Cousins was healthy, but since he's been injured Davis has been playing a lot better. He plays better at centre which isn't his preferred position, but even on his own he cancels out all the bigs the Blazers have to offer. The mis-match in this series is the backcourt of New Orleans trying to keep pace with Lillard & McCollum. Other than the Rockets and the Warriors the Blazers make a strong case for best backcourt tandem in the league. Lillard has been clutch this year and he's proven he can get it done when needed, as long as McCollum can put up steady numbers to help out I think Portland gets through. Davis will carry the Pelicans got a game or two, but Rondo & Holiday are going to get crushed.
Prediction – Blazers 4-2
(4) Oklahoma City Thunder vs (5) Utah Jazz
This series should be tasty, both teams have a huge home-court advantage, whoever breaks serve first should take it. The Jazz ended the season on a rampage to get right into the middle of the playoff mix, where as the Thunder have been up and down all season. If the Thunder turn up they can knock off any team in the league, and most of their struggles lately have been defensively since they lost Andre Roberson. Westbrook just averaged a triple double for the second consecutive season becoming the only player in NBA history to ever do it twice, good luck to Ricky Rubio/Donovan Mitchell attempting to guard him for a series. The Jazz have been playing extremely well but they've been massively over-achieving in terms of what they have on their roster. Gobert is an elite centre, but him and Adams will essentially cancel each-other out. Ingles & Favors vs Paul George & Carmelo Anthony is a huge mis-match which the Jazz will really struggle to overcome. I've got OKC moving on.
Prediction – Thunder 4-2