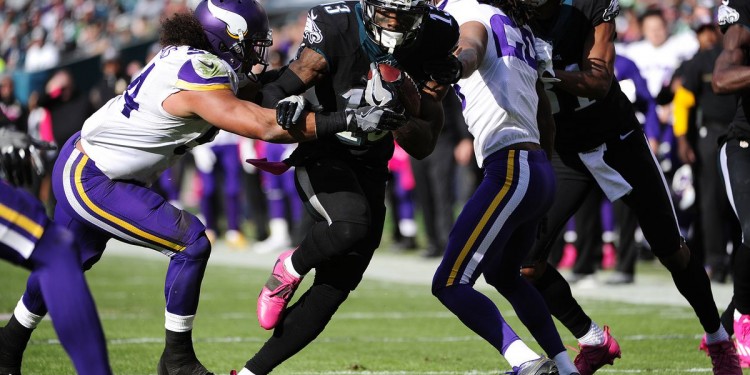 8:05pm Kickoff
Jacksonville Jaguars @ New England Patriots
The Jags defence has been carrying them all season, but last weekend it was their offence that sunk the Steelers, Fournette couldn't be stopped and from that came the play-action passing that Pittsburgh had no answer for. However, Bill Belichick has a history of taking your best offensive player out of the game and making you find other ways to win. Fournette had his two worst games in college against Nick Saban's Alabama, and who is Belichick really close friends with? Nick Saban. They will have been speaking all week and Belichick will definitely have a solid plan in place.
On the other side of the ball the Jags defence shuts down most outside passing attacks they come up against, but the Patriots only really attack the centre of the field with quick short passes. Gronkowski will probably be shadowed by Jalen Ramsey, but it's the Patriots running backs that will be causing the problems with passing routes coming out of the backfield. As a neutral I want to see someone other than Brady in the superbowl for once, but I can see them coming out swinging, and the Jags can't play from behind.
Prediction: Patriots 33 - 16 Jaguars
11:40pm Kickoff
Minnesota Vikings @ Philadelphia Eagles
No matter who they beat the Eagles can't seem to get respect from anyone, again home underdogs with the best home record in the NFL over the past two seasons. Both teams will want to run the ball, and these two teams are ranked #1 & #2 in the league in run defence, so it should be a slow and gritty game. Field position will be key, and turnovers will probably decide this one. The Eagles are one of the best defences at forcing turnovers, and despite the Vikings having the better defence they don't create a lot of turnovers. Defensively the Vikings should be able to shut down the Philly offence, with Xavier Rhodes cancelling out Alshon Jeffery, but I think Ertz can have some success against the Vikes linebackers.
On the other side of the ball the Vikings offensive line will be under constant pressure from Cox & Graham, and Case Keenum will have to get the ball out pretty quickly. Adam Thielen not being 100% is huge, especially seeing as it's a back injury. Whoever the Eagles put on Diggs will probably have help over the top, leaving Kyle Rudolph as their biggest threat in this one. I doubt the Eagles are worried about Latavius Murray all that much, McKinnon is the running back for the Vikes that can cause them more problems. All of the neutrals seem to want the Vikings to win to host their own superbowl, but playing an angry disrespected defence on a cold sunday night in Philly for a dome team, I can't see it.
Prediction: Eagles 19 - Vikings 16
Todays Recommended NFL Tips