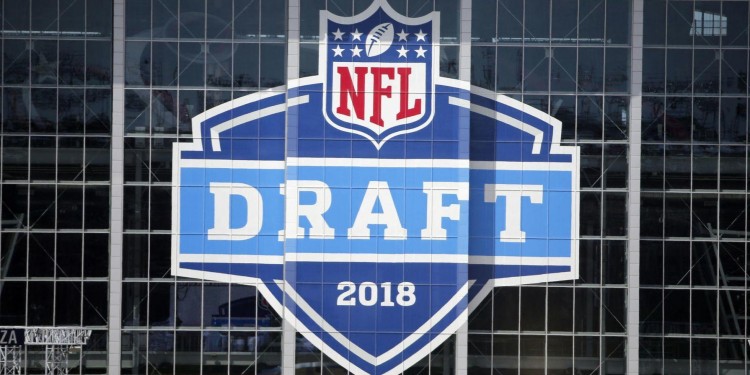 If you're into the NFL but you've never watched the draft this would be a good year to start. By now there is normally a consensus #1 player, meaning people probably know picks 2 & 3, but this year no-one really has any idea. If the Browns miss their quarterback AGAIN after passing on Wentz and Watson recently, their fans will begin to think they'll never be relevant again. There are a few of the top players you should look forward to seeing in the NFL i've highlighted below, but going into detail or predicting the entire first round is pretty much impossible. As usual, i've picked out a few bets that I think have some value at the bottom.
Sam Darnold
A few weeks ago everyone seemed set on the idea that Darnold was going first to the Browns, but then talk emerged about them maybe taking Josh Allen, and even more recently Baker Mayfield's name has been making the rounds. All part of the pre-draft mind games GMs try and play with eachother, I can't see them taking anyone but Darnold here. His first year at USC he was great, his second year he struggled with turnovers and made some riskier throws but still showed flashes of that 'clutch' potential that very few quarterbacks in the NFL possess to carry their team to wins.
Saquon Barkley
 This is basically the slam dunk pick of the entire draft that can't go wrong regardless of who drafts him. If you haven't seen any of his highlights from Penn State go check them out on youtube, he's absolutely ridiculous. Sadly in the NFL running backs probably have the shortest careers due to the battering they take running into 300 pound defenders 20/30 times a game, but what makes Barkley so special is his ability to play at around 225-235 pounds, and still be the quickest guy on the field. He's built to withstand punishment, makes people look silly, great in the passing game, lethal kick returner, not a problem off the field, he literally has no faults as a prospect. Teams have recently shown picking an elite running back early can make a huge difference right away (Ezekiel Elliott, Leonard Fournette), but with all the pressure on the Browns to finally get that franchise QB they can't miss their chance to get 'the guy' at #1, especially when they already have a starting running back making a decent amount of money in Carlos Hyde. Barkley to the Giants makes sense for me, as they seem to believe Eli has one more run in him at another Superbowl.
Josh Rosen
At one point scouts and GMs seemed to think it was between Rosen & Darnold to be the first QB taken, now there's talk of him not even going in the top 10. In terms of starting in your rookie season Rosen is far and away the most pro-ready QB coming out this year, has an elite an arm can make all the throws, but everyone seems to be concerned about his attitude and durability. In his last year at UCLA he dealt with two concussions, missed time in previous years due to a shoulder injury, if he's going to be successful he needs to go somewhere with a solid offensive line to sit behind, he isn't exactly mobile compared to the other quarterbacks either. For some reason this feels like a John Elway pick, got him going to Denver.
Josh Allen
The comparison for Allen is Carson Wentz, with the way he seems to have flown up people's draft boards in the weeks leading up to the draft. If you get a chance to look at his workout video for NFL scouts you'll see him zinging passes 80 yards pretty comfortably, the guy has an absolute cannon of an arm. However, he played in a pretty week division in college, and had a completion percentage below 60 against that weak competition, which is probably a huge red flag for NFL scouts. If he can sit for a year or two behind a veteran QB in a system that will play to his strengths, he has the arm talent to be one of the best. The way I see the other QBs getting taken early, i've got him sliding before the Bills jump up to get him.
Lamar Jackson
Jackson has been dubbed 'mike vick 2.0' by mike vick himself. This guy is scary fast, has a big enough arm, but arguably has the highest ceiling of all the QBs coming out this year. Typically QBs that rely on their legs surge in their rookie season then fizzle out when NFL defenses have some game tape on them to figure them out. The difference with Jackson is he can beat you from the pocket, and pretty much makes every defense designate a 'spy' in the middle to follow him everywhere, meaning your team should have the advantage when he sits back and throws. Similarly with Josh Allen, if Jackson gets put into a system that plays to his skillset, I will be snatching him up in fantasy football for the next few years.
A few hunches/predictions:
Baker Mayfield goes to the Jets at 3
Browns take Chubb at 4
Rosen to the Broncos at 5
Colts take Nelson at 6 if they stay put, if they trade back he goes at 7 to the Bucs
Niners & Raiders take Roquan Smith & Tremaine Edmunds, both would be happy with either
Bears take Denzel Ward at 8
Rashaan Evans to the Steelers at 28
Courtland Sutton to the Jaguars at 29
Eagles trade out of the first round if Jackson slides of a team are high on Mason Rudolph, if Guice is there they'll make the pick